The Last Photos Of Native American Tribes
"No one man alone could preserve such a record in complete form. Others have worked in the past, and are working in the present, to preserve parts of the record; but Mr. Curtis because of the singular combination of qualities with which he has been blest, and because of his extraordinary success in making and using his opportunities, has been able to do what no other man has ever done. What, as far as we can see, no other man could do." – THEODORE ROOSEVELT, 1906 Forward to The North American Indian
1. Wisconsin 1868
Edward Sherriff Curtis was born in Wisconsin just a few years after the Civil War in 1868. With the end of America's bloodiest conflict, the United States government turned its attention West and sought to pacify the land they intended to expand into.
As is well known and documented extensively, their prosecution of conquest in this effort brought the deaths and removal of Native American tribes from all over the land. By the time Edward Curtis took his first photograph of a Native American, it was feared that their rich history and way of life would vanish from the continent forever.
2. Seattle 1893
Edward Curtis, the white son of a Civil War veteran and Pennsylvania born mother, moved to Seattle in 1893. He had apprenticed with a photographer after showing a flare for the art at an early age, and was able to open up his own photography studio two years later.
He made a good living, and reports say he was very good at making ladies of the land look lovely. They came around often for visits, which may have been a source of contention later in his life. But one such encounter with an older, Native American woman would change the trajectory of his career and his life.
3. Princess Angeline
The first Native American that Edward Curtis photographed was Seattle royalty. Her name was Kickisomlo, or Princess Angeline, the eldest daughter of Chief Sealth of the Duwamish tribe. If Chief Sealth sounds familiar, that's because the city of "Seattle" was named after him.
In this instance, Curtis actually paid money to take Kickisomlo's picture ($1 per shot), and he commented that she was very happy with the shoot. Through broken speech and sign language "she indicated that she preferred to spend her time having pictures made than in digging clams." Her nickname was "The Clam Digger," and we can guess that she was awfully tired of that activity.
4. "The Clam Digger"
Less than two years later Kickisomlo passed way, and Curtis decided to do something with his photographs. In 1898 Curtis entered "The Mussel Gatherer" and "The Clam Digger," which were photographs of the late Princess, into an exhibition of the National Photographic Society.
The two photographs of the 73-year-old woman, showing her mostly Western garb in what appears to be a poncho type overcoat and red bandanna on her head (probably to combat the rain) with cane in hand, were beautifully captured as the history in her face spoke volumes to onlookers. Near the end of her life, her eyes look hallow, yet somehow piercing, as if she held the wisdom of a hundred generations.
5. Mt. Rainier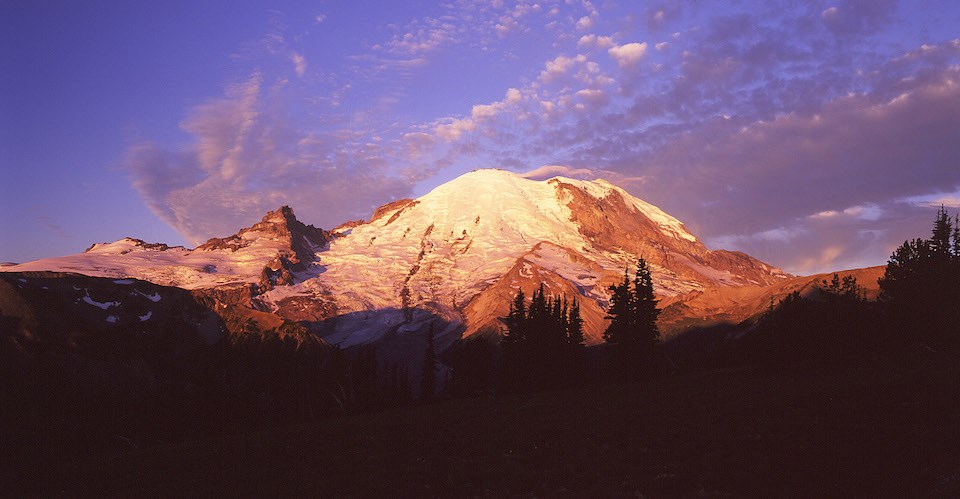 By 1898 Curtis was an award-winning photographer with a successful studio, which he lived above with his wife Clara and three children. Being in the Pacific Northwest and having already been recognized for nature photographs, Curtis traveled to Mt. Rainier to capture the sprawling volcano of the Cascades.
When Curtis made the journey, he noticed a group of men who strayed off course and were lost. They struck up a conversation, and Curtis was immediately intrigued by the anthropologist in the group, a man named George Grinnell, who was an expert in Native American cultures and tribes. It would be a partnership that would develop beyond Mt. Rainier.
6. Harriman Alaska Expedition 1899
The group was made up of prominent scientists from many fields, and from this chance encounter, Curtis was invited to join them for the Harriman Alaska Expedition of 1899 as the official photographer. He readily accepted, and to the chagrin of his wife and children, he headed out on the adventure.
The Harriman Expedition, led by railroad tycoon Edward Harriman, included some of the greatest scientists in the nation, such as zoologist C. Hart Merriam, and conservationist John Muir. While Alaska's land was being wasted away by the Klondike Gold Rush, too much fur trapping, and deforestation, Curtis attempted to capture images of Eskimo's, who were dwindling in numbers at the time.
7. 5,000 images
The condition of Alaska, and the state of the Eskimo tribe had a profound effect on the young photographer. While the journey aboard the steamship George W. Elder was decidedly comfortable, and Curtis learned a lot from the geologists, botanists, ornithologists, and taxidermists on the ship, none of his future adventures would enjoy the same luxuries.
The Harriman Alaska Expedition resulted in fantastic collections that created so much data about plant and animal species, and glaciers that it would take 50 experts 13 years to organize. Curtis and other photographers captured 5,000 images, and his work was so well received that Curtis was asked to join George Grinnell on an expedition to Montana.
8. 3 Piegan Chiefs
Curtis was happy to sign on to the new expedition, and it was at this point that he left his studio behind and became estranged from his family. The lure of the Great Plains was too great for Curtis, who would later write,
"It was at the start of my concerted effort to learn about the Plains Indians and to photograph their lives… and I was intensely affected." George Grinnell first introduced Curtis to the Piegan tribe and was the perfect person to give a Westerner's account of their customs and religious practices. Curtis later wrote that the Sun Dance he witnessed was a "mystifying" experience.
9. Sun Dance
The Sun Dance is what we might call in the United States a religious ceremony. Western historians and anthropologists have witnessed and studied these ceremonies, but the nuances of it can only be fully understood by the people who practice it.
Photographed above are men constructing the walls of a Sun Lodge from willow birch. Inside the Sun Lodge is where the Sun Dance will take place. For the Piegan, a member of the larger Blackfeet tribe, a man will make a sacrifice by connecting his chest to a large pole in the middle of the lodge with two hooks.
10. Pledgers
The painful practice, often accompanied by starvation, dehydration, and constant dancing, bring about a euphoric state. The Sun Dance has been known to cause what Westerners would call hallucinations, and in these native cultures, caused any number of revelations as it brings them closer to their gods.
These two Cheyenne "Pledgers" are getting ready for just such a ceremony. Though this photograph came later (1910) the Sun Dance for Plaines tribes took place usually around the summer solstice every year. While the practice may seem odd or even grotesque to the Western observer, you can imagine the awe Edward Curtis felt when he saw it for the first time.
11. President Theodore Roosevelt
Edward Curtis returned to Seattle after his Montana trip with Grinnell, and was hellbent on showcasing his work and securing financing for another expedition. His exhibitions were beginning to have an affect on the people who viewed it, and his work was attracting attention from all over the country.
His work even caught the eye of the President of the United States, as in 1906 Theodore Roosevelt, a student of the natural world and fan of Curtis' work, hired him to be the photographer at his daughter's wedding. Curtis won over and gained the support of the president for his next undertaking, and now he just need financial backing to make it happen.
12. J. P. Morgan
After Curtis's expedition with Grinnell, he understood that much of the tribes that made up the continent were vanishing. Their was an immediacy to his goal: to photograph the last of the great American tribes in their natural surroundings. For this purpose Curtis contacted J. P. Morgan among others, and was met with consternation:
"Mr. Curtis, there are many demands on me for financial assistance. I will be unable to help you." But after Morgan saw his work, his tone changed substantially: "Mr. Curtis, I want to see these photographs in books — the most beautiful set of books ever published."
13. The North American Indian
Curtis was given a contract worth $75,000 to produce a 25 volume set of books with an additional 500 original prints over the next five years. He called it The North American Indian, and it was such an undertaking that the New York Herald hailed it as "the most ambitious enterprise in publishing since the production of the King James Bible."
Now that Curtis had the funds to put together an expedition of his own, and with a wagon train in tow, he headed West to the plains where he spent time with many of the remaining tribes that occupied the land.
14. Guan dancers
One of the first tribes that Curtis encountered were the Apache, who were a plains tribe that mostly lived in the Southwest. This photograph may look a little scary to those who don't understand that these men are dressed for a ceremony that will likely honor their gods, but as to what exactly they're honoring, we don't know.
These men are called Guan dancers, and that's buckskin over their faces, which made it impossible for them to see. Their bodies are painted in black, and then white designs are carefully placed on their bodies, which are meant to honor their gods.
15. Geronimo
While this photograph showed an old man wrapped in a blanket, one might be surprised to learn it was one of the most notorious warriors North America ever produced. The man is Geronimo (Goyaałé, or "the one who yawns"), the Bedonkohe warrior and medicine man that wreaked havoc on United States efforts to place Native Americans in reservations.
This photo (taken in 1906) puts Geronimo at 87 years old, which was three years before he died. When he was alive, he led one of the last bands of natives who refused to live their life on a reservation. Before his surrender, whites called him "the worst Indian ever." Ever the warrior, the bitterness of his surrender never left, as it is reported his last words were, "I should have never surrendered. I should have fought until I was the last man alive."
16. "Slayer of Alien Gods"
These three men are part of the Navajo tribe, which Curtis encountered early in his travels and are featured in his first volume. From left to right are Tonenili, Tobadzischini, and Nayenezgani, who are all paying homage to a different god.
Tonenili is decorated in spruce and is honoring the god of water, who was considered the clown in ceremonies because the Navajo weather god was known to play tricks. The other two represent twin brothers, and Nayenezgani means "Slayer of Alien Gods," while Tobadzischini was a monster killer. Given that all three are present means a serious ceremony may be taking place, where Tonenili will be needed to lighten the mood.
17. Weaver
Not only was Curtis successful in capturing images of Native American tribes and their ceremonies, but he also had success when taking stills of quieter moments in their daily lives. This Navajo woman is weaving a blanket, which because of unique techniques, were highly sought-after trade items.
The Navajo used the blankets for any number of reasons, such as a shoulder robe or saddle blanket. To make them, each strand of yarn is woven individually. Unlike traditional kilim woven blankets, the yarn's length will be sized specific to the dimensions of the blanket rather than produce fringe on the outside.
18. "The Shadow Catcher"
This photo was taken in Northeastern Arizona in one of the last Navajo strongholds. The Navajo photographed here are passing through the Cañon de Chelly, and Curtis later wrote, "[the canyon] exhibits evidences of having been occupied by a considerable number of people in former times, as in every niche at every side are seen the cliff-perched ruins of former villages."
Curtis had a way with Native American tribes that seemed to endear them to him. Not to mention his enormous 14" x 17" camera produced beautiful glass plate negatives, and because of this the native tribes began calling him "The Shadow Catcher."
19. Red Cloud
This photograph was also published in Curtis's first volume of work, and features the famed Sioux Chief Red Cloud. From the Oglala band of the Sioux, he is responsible for inflicting what was at the time the worst defeat for an American army in history.
In what was later called Red Cloud's War, a wounded horse carrying the incomparable Lakota warrior Crazy Horse, lured 81 cavalry soldiers into an ambush. Red Cloud and a coalition of thousands of native warriors killed them all to the last man, and managed to keep their land because of this victory. The winners of the battle called it, "Battle of the Hundred Slain," while the US refers to it as the "Fetterman Massacre."
20. Fort Laramie Treaty
Red Cloud was persuaded to make peace after this engagement with the signing of the Fort Laramie Treaty. The Oglala settled on what is now the Pine Ridge Indian Reservation in 1873. It was thought that Red Cloud spoke for all Sioux tribes when the treaty was signed, and even though the Oglala's were pacified, many other bands continued their resistance.
In the summer of 1876, after the United States government broke the terms of the Fort Laramie Treaty, an outspoken Indian fighter named George Armstrong Custer led an army of 212 men against a village of Sioux and Cheyenne who were gathered for a Sun Dance. Custer's men were also slaughtered to the last man, making it the worst defeat in US Army history.
21. "The one thing he desires"
While the army and press would contend that the village on the banks of the Little Big Horn River was gathered to fight the US Army, they failed to understand the customs of the natives they were fighting. Had they known it was late June and time for the annual Sun Dance, they may have stayed away.
And while the fighting had subsided to basically nothing by the time Curtis was on the scene, native traditions were still going strong. Curtis would later write of this Sun Dancer: "As they dance, the performers never leave the spot on which they stand… their eyes are fixed on [the sun's] lower rim. The dancer concentrates his mind, his very self, upon the one thing that he desires, whether it be the acquirement of powerful medicine or only success in the next conflict with the enemy."
22. Slow Bull
War was not a way of life for many Native American tribes, but rather a reality of it. This Oglala Medicine Man was Slow Bull, and he had many wartime exploits to his name. This photo was taken when he reached the age of 63, he set out on the plains to have smoke from his pipe.
Smoking was an extremely important tradition to the plains tribes, and pipes for different occasions were often fashioned. Tobacco wasn't always prevalent on the plains (especially before white people settled there), so plains natives would often use kinnikinnick, which is usually scraped red bark from a tree.
23. "Last chance"
Volume One of The North American Indian was published in 1907, and none other than President Theodore Roosevelt himself wrote the forward. In it, Roosevelt wrote of the importance of his work when he said "Our generation offers the last chance for doing what Mr. Curtis has done."
Roosevelt also praised his method when he wrote, "He has lived on intimate terms with many different tribes of the mountains and the plains. He knows them as they hunt, as they travel, as they go about their various avocations on the march and in the camp. He knows their medicine men and sorcerers, their chiefs and warriors, their young men and maidens. Mr. Curtis, in publishing this book, is rendering a real and great service."
24. Divorce
The 20 volumes that comprised The North American Indian would come out over the course of the next 23 years. During this time, Curtis spent the majority of his time among the tribes and away from home. Though his wife was basically estranged, she stuck with him for a while longer.
Curtis tried to make it work, and came up with tide of taking his family with him on his travels. But that ended when his oldest son Harold nearly died of typhoid in Montana. Clara vowed to never travel with Edward again, and in 1916 she filed for divorce.
25. "The Man Who Never Took Time to Play"
Curtis was known as "The Shadow Catcher," but he later said he should've been known as "The Man Who Never Took Time to Play." So dedicated was he to his work that he rarely took a moment off. In the divorce his wife was awarded their home and his studio, which nearly severed his ties to Seattle.
All Curtis had was his work, and generations of people would later benefit from it. The above photograph is an absolute rarity in the early life of photography, as a Nez Perce warrior rides in the darkness, and Curtis somehow still captures his image.
26. Chief Joseph
So much history surrounded the plains and Western United States, and Curtis was able to gain access to some of its titans in their final days. Apart from Geronimo and Red Cloud, Curtis was also able to photograph one of the last holdouts to the reservation system: Chief Joseph of the Nez Perce.
Chief Joseph wanted nothing more than to see his children grow up in the Wallowa Valley, and when his day came, to die there too. That's why he refused to leave when another band of Nez Perce signed a treaty, and he fought one of the most impressive military campaigns in North American history against the US Army, in order to preserve his home.
27. "I will fight no more forever"
One critique of Curtis's work is that he would often ask his subjects to dress up for him, thus creating a sort of artificial characteristic to his work. Sometimes he would even have young men recreate famous battles. In 1903 Curtis had a chance encounter with Chief Joseph, and he asked him to put on his head dress for the photo.
It is said that Chief Joseph died of a broken heart having failed to secure placement in the Wallowa Valley after he surrendered. But prior to that, he led 750 Nez Perce on a 1,150 mile fighting withdrawal from the US Cavalry before he famously declared, "I will fight no more forever."
28. Wishham bride
While native tribes were no longer warring with the United States, their culture still lived on. This beautiful Wishham woman is dressed for her wedding day in full beaded regal. Natives had been using beads made of bone, shell, and stone, until Europeans arrived with glass and ceramic beads.
Beads were highly coveted by native tribes and took the place of the time-consuming art of quilling. Quilling is the practice of taking porcupine needles and using them for dress clothing. It involved using dyes from any number of sources, and ranged from ceremonial uses, to the Western equivalent of wearing one's Sunday best.
29. Columbia River 1909
The Columbia River in 1909, when this photograph was taken, was full of salmon fighting their way to the Pacific Ocean. They knew the river well, and Curtis would write, "Among the middle course of the Columbia at places where the abruptness of the shore and the up-stream set of an eddy make such method possible."
Curtis went to write, "salmon were taken, and still are taken, by means of a long-hauled dip-net. At favorable seasons a man will, in a few hours, secure several hundred salmon – as many as the matrons and girls of his household can care for in a day."
30. "A service"
In 1913 Curtis got some shocking news: J. P. Morgan had died unexpectedly. He pleded with Morgan's son and only secured partial funding for his expeditions. He continued them for more than 15 years, but the efforts drove him to financial ruin.
Curtis's downfall was long and painful, as his family was gone, and he siphoned off the rights to his work to stay afloat. He died of a heart attack in 1952 in Los Angeles, and was mostly forgotten for decades. But his work is still alive, and his access to native tribes was unprecedented at a time. It would be impossible to repeat. At much cost to his personal life and those around him, Edward Curtis provided a catalog of culture, and as Theodore Roosevelt put it, he performed "a service not only to our own people, but to the world of scholarship everywhere."