1. Robin Williams
Robin!.. Come back!.. Robin Williams appeared at an art gallery in the Bay Area the before he committed suicide, but this photograph is from his last public appearance. Slightly more frail and definitely aged, we can still see that pleasant smile, and crazy little twinkle in his eye that use to let us know something incredibly funny was about to happen.
But the eccentric actor and comedian was a troubled soul, and on August 11, 2014 he took his own life. It was later revealed that Williams had a mentally degenerative disease known as Lewy Body Dementia, and complications from the affliction certainly contributed to his declining mental state.
2. Tupac Shakur
We're not saying that Tupac is dead, but this is the last known photograph of the hip hop legend. That man to the right of Tupac is Suge Knight, and when they met each others' acquaintance Tupac expounded on some bad habits. After a fight broke out in a Vegas casino on September 8, 1996, Suge and Tupac took off, and were shot by still-unknown assassins.
According to the first officer to respond to the incident, he brought Tupac out of the car and placed him on the ground while he was bleeding. Tupac was trying to call for Suge, and the officer was asking Tupac who shot him. In true Tupac form, right before a serenity took hold of him, he looked the officer in the eye and replied, "F you." Then he closed eyes for the last time.
3. Samuel Clemens aka Mark Twain
One of America's best and most beloved authors was laid to rest on April 21, 1910. Twain's health was declining and death was very much on his mind before he went, as his last completed work was, "Etiquette for the Afterlife: Advice to Paine." Mark Twain was born while Haley's comet was visible in the night sky.
The author of classics such as "The Adventures of Huckleberry Finn" and "The Adventures of Tom Sawyer" worked right up until the moment he died. Among his last instructions to his biographer, Albert Bigelow Paine, Twain had him transcribe the following: "Leave your dog outside. Heaven goes by favor. If it went by merit, you would stay out and the dog would go in." When Mark Twain died, Hlaey's comet was also visible, as its regular cycle is 76 years.
4. James Dean
James Dean loved his cars and was actually a race car driver between films. After purchasing his new Porsche 550 Spyder, the "Rebel Without a Cause" star showed it to British Actor Alec Guiness, who took one look at it and ominously said, "If you get in that car, you will be found dead in it by this time next week."
One week later, on September 30, 1955, James Dean was behind the wheel and headed to a race in California. He rode with a Porsche mechanic named Rolf Wütherich, who encouraged him to drive the new car to the way to the race to break it in. According to reports, right before Dean flipped the car into a horrifying wreck, he said: "That guy's gotta stop… He'll see us."
5. Freddie Mercury
Freddie Mercury wanted nothing more than to be left alone by the media in his final days, but because they came so abruptly, he never really had the chance. The King of Queen shocked the world on November 23, 1991, when he announced amid heavy speculation that he did indeed have AIDS.
Mercury did everything he could to keep working and have his life remain as normal as possible (for a rock star anyway) before the end, but when he couldn't conceal his illness any longer, he made the announcement and added, "My privacy has always been very special to me and I am famous for my lack of interviews. Please understand this policy will continue." The very next day, Mercury passed away.
6. Anne Frank
All of the other photos in this collection were taken within days of the subject dying, but in this case, this photograph was taken years before Margot and Anne Frank were killed. It was taken sometime in early to mid-1942, which would've been just months before the Frank family went into hiding to escape the Gestapo and the Holocaust.
This means that this photograph was taken just before Anne received an empty diary from her father. She had no way of knowing it (and sadly she'll never know it), but in the ensuing months and years she would create one of the most important written works in history, selling 30 million copies in 70 different languages.
7. Marilyn Monroe
It's nice to see that the last known photograph of Marilyn Monroe shows her in a happy moment. This photo was taken in August 1962 during a weekend retreat with jazz pianist Buddy Greco (pictured) and Frank Sinatra (not pictured).
Monroe was known to have mental issues and abuse drugs, and on August 5, 1962, those habits got the better of her. Her death was officially ruled a suicide, though conspiracy theories abound that she was murdered. Either way, the sex icon was a special kind of woman, causing her ex-husband, baseball legend Joe DiMaggio, to say on his deathbed almost 37 years later, "I'll finally get to see Marilyn."
8. Bob Marley
In September of 1981 Bob Marley was jogging in Central Park after absolutely rocking a crowd in Madison Square Garden. "The reggae star had the majority of his listeners on their feet and in the palm of his hand," wrote New York Times music critic Robert Palmer. When he was jogging the next day, the reggae legend all of the sudden collapsed, and was rushed to the hospital.
Evidently, Marley had cancer that stemmed from an old soccer injury to his big toe. Somehow it had metastasized and spread to his most vital organs. On his death bed in Miami, Florida on May 11, 1981 the "Redemption Song" singer turned to his son and said, "Money can't buy life," before he slipped away.
9. Abraham Lincoln
If you think today's news cycle is crazy and replete with sensational stories, then consider the events leading up to President Abraham Lincoln's assassination. After Lincoln was inaugurated as president for the second time one month earlier, Commander of the Confederate Army, Robert E. Lee, surrendered to Ulysses S. Grant on April 9, 1865, effectively ending the Civil War.
Lincoln was looking forward to post war life, but just one day later on April 14, 1865 a Southern actor named John Wilkes Booth, who was supremely loyal to the Confederacy, entered Ford's Theater and shot the president in the back of the head. He would officially die the next morning. The Great Emancipator never really got the chance to experience the Presidency without war.
10. Challenger Crew
On January 28, 1986 the unthinkable happened. Seventy-three seconds into the tenth flight of the Space Shuttle Challenger, it broke apart after an O-ring in the right booster failed, and exploded like a nuclear bomb in the sky. None of the people below were seen alive ever again.
An investigation by NASA revealed that the crew may have been alive for several minutes after the explosion, and made efforts to recover control. Part of that crew was astronaut Christa McAuliffe, who was going to be America's first teacher in space, after the elementary school educator won a contest with over 11,000 other applicants.
11. Christopher Wallace aka Notorious B.I.G.
Biggie Smalls was on top of the world in early 1997 and had just released his second album. That man to the right is Bad Boy Records Founder Sean "P Diddy" Combs, as the two men attend the Soul Train Music Awards on March 8, 1997.
The two attended an after party that included guests such as Faith Evans and Aaliyah, and departed there in the early hours of March 9th. Biggie was sitting in the front passenger seat of his SUV when a black Impala pulled up next to him and fired four shots into the car. Perhaps most well-known about his murder is that fact that it has never been solved, despite several eye witnesses at the scene.
12. President Grant
That's Ulysses S. Grant there, writing his memoirs, which he barely completed right before he succumbed to throat cancer on July 23, 1885. Boredom always led Grant to drinking, but it was his habit of chain smoking cigars that he developed during the Civil War that ended up killing him.
In fact, he liked cigars so much that after he captured two forts in Tennessee and defeated the Confederate Army at the Battle of Shiloh, the citizens in the area gifted General Grant 10,000 boxes of cigars. Then he went on to win the Civil War and become President of the United States in that order.
13. Heath Ledger
That's actor Heath Ledger on set for "The Imaginarium of Doctor Parnassus," but he's certainly more well-known for the role that reportedly killed him, the Joker in "The Dark Knight." Ledger poured his heart into the role and claimed that he only slept about two hours a night when he was on set.
Friends had warned Ledger about mixing prescription meds and sleeping pills, which is ultimately what killed him. Before his death, a man who'd played Joker before gave him another warning about how dangerous the role was. After Ledger died on January 22, 2008, Jack Nicholson, the man who played Joker in 1990's "Batman" simply said, "I warned him."
14. Elvis
Despite the fact that Elvis received a badge from the Bureau of Narcotics and Dangerous Drugs by President Nixon a few years earlier, Elvis died with a varied mixture of dangerous substances in his system. Despite his declining health and physical appearance, fans were shocked to read the headlines on August 16, 1977 that the King was dead.
Headlines the next day read, "ELVIS PRESLEY DIES OF HEART ATTACK," despite the fact that the autopsy didn't reveal any failures of vital organs. A decades long drug addiction, diabetes, and constipation are what took the King down in his Memphis Mansion, Graceland.
15. Adolf Hitler
That's Hitler on the right and he's surveying the ruins of his capital city. This photo was taken on April 28, 1945, which was eight days after Hitler's birthday. On his 56th birthday, Russian artillery and Allied aircraft gave him the most destructive birthday he ever had with a massive bombardment of Berlin.
Hitler's nerves were shattered by this point, as one of his arms was rendered virtually useless from a previous assassination attempt, and he was on a near 24-hour-a-day-drug regimen that kept him numb to the fact that his country was crumbling around him. Two days after this photo on April 28th, Hitler administered cyanide capsules to himself, his dog Goldie, and mistress Eva Braun.
16. President Kennedy
There were a lot of photographs taken of President John F. Kennedy on that fateful November day in 1963 in Dallas, Texas, but this one claims to be the last. It has the feeling like it's the moment of the high water mark, or that point where the wave started to roll back, as such an era of promise was cut short by an assassin's bullet.
Photographs and video have been collected by both investigators and sleuths over the years as certain aspects of the assassination are still left unanswered: the trajectory of a single bullet, where it struck Kennedy, and were there any co-conspirators? The truth is, we may never know.
17. Philip Seymour Hoffman
This tintype photograph of Philip Seymour Hoffman is a dark depiction of the troubled soul that looks back at the camera. It was taken in 2014 at the Sundance Film Festival, which just happened to be his last public appearance.
Fans of the "Hunger Games" were certainly sad that writers were forced to write him out of "Mockingjay," as he died during filming. Production slowed on the set as he died of an accidental overdose just a week before finishing his part. Lead actress Jennifer Lawrence said, "It took a week when I wasn't waking up and having to remember (Hoffman) was gone. We all suffered that together."
18. Amelia Earhart
The first female pilot to cross the Atlantic, and the first person to fly solo from Hawaii to the US mainland, posed for this photo before she attempted to be the first person to circumnavigate the globe in an airplane. On July 2, 1937 her Lockheed 10E Electra crashed on Gardner Island in the middle of the Pacific Ocean.
Recently, her final radio transmissions have been transcribed as a 15-year-old girl in Florida randomly picked up, "waters high… waters knee deep… let me out… help us quick." There was also a housewife in Toronto that heard, "We have taken in water… we can't hold on much longer."
19. Patrick Swayze
Patrick Swayze was an action movie icon in the 1980s and 1990s, and while he kicked men's butts in "Roadhouse" and "Point Break," he stole women's hearts in "Dirty Dancing" and "Ghost." That makes it all more hard to look at this last photograph of him, as he was rapidly losing his battle with stage four pancreatic cancer.
Swayze's decline in health was a though thing to watch, and this photograph was only revealed to the public when his wife published a memoir. He was given a grim diagnosis in January 2008, but managed to hang on over a year until he died on September 14, 2009.
20. Jim Morrison aka The Lizard King
That's Jim Morrison with his girlfriend of many years Pamela Coufold in the photograph, taken in the town of Saint-Leud'Esserent about five days before he was found dead in Paris. Morrison was on the run for profanity and exposure charges in the United States, so he moved to Paris in March of 1971 to escape.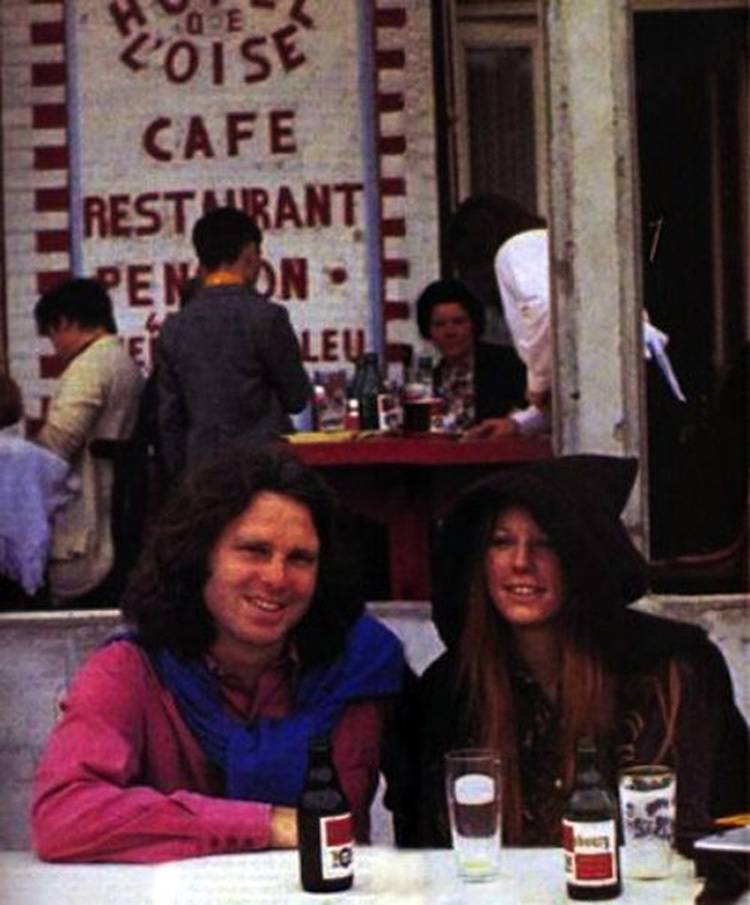 It is said that Morrison gained so much weight that he was unrecognizable, but he doesn't look to bad in this picture. Much speculation surrounded his death for years, as authorities in Paris concluded that he died of heart failure after drug use, but never performed an autopsy.
21. Dr. Martin Luther King, Jr.
The photograph on the left was taken just moments before an assassin's bullet strikes Martin Luther King in the jaw on April 4, 1968. There is also a photograph after that shows King is down, and Reverend Jesse Jackson and company pointing at the shooter, James Earl Ray.
Ray fled the country but was later arrested in London and died in prison. As for King, he kind of foreshadowed his demise in a speech where he said, "I've seen the Promised Land. I may not get there with you. But I want you to know tonight that we, as a people, will get to the Promised Land."
22. John Lennon
What's creepy about this photo is not that it's the last time John Lennon was pictured, but the fact that his assassin is pictured with him hours before he pulled the trigger. That's Mark David Chapman there getting Lennon's autograph as he's headed to the studio to record some music.
Chapman then waited for Lennon in front Lennon's Manhattan apartment, and read through pages of "Catcher in the Rye." When Lennon came back home Chapman shot him in the back four times killing him on December 8, 1980. In August 2019 Chapman was denied parole for the tenth time, and still rots away in prison.
23. Alan Rickman
"Hanz!!!" You can almost hear Bruce Willis cry out as we look at the last-known photograph of "Die Hard" villain Alan Rickman. He may look slightly annoyed to have his picture taken, but he doesn't look like he's unhealthy at all. But on December 7, 2015, the world was shocked to learn that Rickman had passed away.
This photograph was actually taken weeks before Rickman died, at Wyndham's Theater in London. He had been secretly fighting a battle with cancer, and had managed to keep it secret from the public and actually kept working right up until the moment he died.
24. President Roosevelt
Whether one agrees with Franklin Delano Roosevelt's policies as president it should be noted that he gave his life for his country, as the 12-year president basically worked himself to death, finally succumbing to a brain hemorrhage on April 12, 1944 after uttering the words, "I have a terrific headache."
Harry Truman was sworn into office that evening, and the next day he gave a press conference. A shocked an overwhelmed President Truman confessed, "Boys, if you ever pray, pray for me now. I don't know if you fellows ever had a load of hay fall on you, but when they told me yesterday what had happened, I felt like the moon, the stars, and all the planets had fallen on me."
25. Jimi Hendrix
Here we have another famous musician cut down in their prime, and another member of the 27 club. That's Jimi Hendrix with his "black beauty" guitar posing for a photo taken near London by his girlfriend Monika Dannemon just one day before he died.
Hendrix died on September 18, 1970 from complications relating to drinking too much. According to a friend of his, while Hendrix was partying with the likes of Elton John, he mixed lager with red wine. His said friend that Hendrix never drank red wine before in his life, and it caused him to drink way too much.
26. Archduke Franz Ferdinand
There may not be an assassination in history that was more consequential than that of Archduke Franz Ferdinand of the Austrian-Hungarian Empire, as his murder sparked a European powder keg that exploded into the most massive, bloody conflict the world had ever known.
On June 28, 1914 Ferdinand and his wife Sophie were visiting Sarajevo when a bomb exploded near their car (pictured above), causing them to flee. The driver got away and eventually made a wrong turn. One of the assassins, a man named Gavrilo Princip, just happened to be in a cafe when the car pulled in front of him. He shot and killed them both, and the rest is history.
27. Amy Winehouse
The downward spiral of Amy Winehouse was a difficult thing to watch, as the talented young singer could not harness her demons, and died from alcohol poisoning at the age of…you guessed it, 27. On July 23, 2011 the singer was found dead in her apartment after a relapse overwhelmed her body.
Winehouse won five Grammys, including the 2008 award for best album. "Rehab" had some telling lyrics that help explain why Winehouse was unable to kick her bad habits, as it goes, "They tried to make me go to rehab. I said, no, no, no… Yes, I been black, but when I come back, you'll know, know, know…"
28. Vladimir Lenin
If Lenin looks a little freaked out, it's because he's in a near catatonic state after suffering a number of strokes in his final years. The man who masterminded the Bolshevik Revolution and became the first Premier of the Soviet Union paid a heavy price for years of stirring the Russian masses.
Lenin rose to power in Russia, but only held onto it for a couple years. Lenin was only 54 years old when he died, but by the time this photograph was taken, Lenin had already suffered three strokes in two years, leaving him mute. A final one would finish him off on January 21, 1924
29. Albert Einstein
This photograph was taken by TIME magazine just prior to Einstein's death, and was never published at the insistence of his family. His death and subsequent funeral were kept quiet by his family, as the man who was later named TIME Man of the Century died on April 18, 1955.
Apart from winning the Nobel Prize and coming up with one of the most important equations in human history, he's also responsible for the Manhattan Project. When he learned that German scientists successfully split the atom, he wrote to President Roosevelt urging him to start a project to get the crucial technology first.
30. David Bowie
Musician David Bowie succumbed to cancer on on January 10, 2016, and this photograph was posted to his Instagram account two days before it happened. Fans believed that his final song "Lazarus" was a goodbye, because in the video he sang the song from a hospital bed and screamed toward heaven.
But the reality is that Bowie had been battling cancer for years, but actually didn't know it was terminal until three months before he died. In that time Bowie insisted that "Lazarus" was not a goodbye, but a mere coincidence. If that's God's version of a joke we're not laughing, but at least we can still rock out to any of his 25 albums.